Mente's History
Mente formed in the spring of 1978. They started out with an acoustic guitar, a plastic ukulele, a harmonica, and no drum kit (they used an armchair or sometimes an old snare drum). At first, there was Drap, Pillsbury Joe-boy, and Mern (later known as Ron Bacardi). Walshito joined later in the year. They took turns singing and none of them could play any of the instruments. Undaunted, by November, they had completed the first tape, Excelentemente, recorded entirely on a little portable $29 cassette recorder. They wrote the lyrics without regard to the musical accompaniment, which came later during the recording sessions. The music was pretty rough and was usually made up, arranged, and recorded in one day, never to be played again. They never recorded a song as a foursome; some of the songs Mern did by himself. From the beginning, Mente focused on writing as many songs as possible in the hopes that one may actually turn out to be good - the give a million monkeys a typewriter theory in action.

Early in 1979, they decided they needed a drummer because no one could keep a beat. Getting some electric guitars would be a good idea, too. Bob Mag joined on drums and, lo and behold, he could play the things. The new guitars came soon after, but they still couldn't play them. However, they were getting serious about what they were doing: They would actually play songs several times sometimes before attempting to record them and they started to write lyrics with music in mind. They stepped up the recording equipment to a stereo cassette deck. Some of the better songs from this era, however, were done the old fashioned way: one take, ad lib. Mente's second tape, Hovering Upon the Eternal Eclipse, was finished in June 1979. Included were the first versions of "Hoverin'", "Manolete", and "Rock & Roll Tonight." Mente began to make plans for their first show (called Murfstock) with another band, the 2M Company. The plans fell apart and they never played live with this roster. They continued on until the beginning of 1980 when Bob quit. They never got enough stuff together for their third album, West Ink.

In 1985, Mern recorded a few Mente songs with his x-wife, which she stole and used on her own band's records (Don't Call Home, Empty Glasses). The band hadn't been together formally for quite some time, when Mern joined a bowling league in 1989. He still had no talent, but he convinced two other rock star wannabe's with no talent that they could resurrect Mente.
---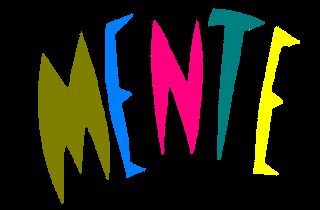 Mente was "The Worst Band in Boston" from 1989 to 1994.
The new members, Mazz (a.k.a. Love, Menu, Baldwin) on bass and Edward van Mente on guitar each picked up their instrument for the first time in 1989. The three began practicing and writing songs furiously and got enough material to play a short set at their bowling league party on 8/8/89. Bolstered by their drunken friends' enthusiasm, they decided to go professional. They asked Gringo Starr to join the band on drums, who also never played his instrument before. After convincing their friend and bowling mate, Joe Harvard to speak for them, Billy Ruane reluctantly agreed to let them play at the Middle East, but only if Mern's x-wife would play, too. They quickly agreed and their first professional show was set for 10/10/89. How bad was it? Let's just say that the most compelling reason Billy had for inviting them back was the dead cod Mern displayed during their set closing rendition of "Scrod."
That fall and winter, Mente was seen in and around the club circuit of Boston, building an audience of misfits and drunkards. In December of '89, they recorded a 2-track demo which they released as a radio-only tape, What's the Buzz?. Sure enough, there was an annoying buzz all through the tape, but, no matter, "Bobby Orr" became a local favorite on college radio and WFNX and WBCN's local shows. They were invited to perform live on the Tufts University radio station, WMFO. Nothing could explain their popularity.
During the spring of 1990, Mente embarked on series of theme shows to heighten their profile. Clad in togas, on the Ides of March, they played the Roman Show, debuting "Et Tu, Mente?" On Patriot's Day (April 19th), they presented the Seventeen Seventy-Rock show, complete with "Hey, Redcoat" ("where you going with that musket in your hand?") and "Give Me Rock or Give Me Death" while dressed in 3-corned hats and knickers. In May, they produced their most ambitious undertaking - the five hour Rhodestock Festival, featuring bands and performers from Rhode Island. Soon Mente was appearing twice monlthy around Boston and, eventually, Providence supporting their new chums, the Bags and the Titanics, as well as other local riff raff.
During the summer, Mente decided to offer a money back guarantee to always play a new song at each of their shows. To make good on the deal, they often resorted to writing and arranging the new one on the day of the show and never performing it again. However, some of their most enduring crowd favorties were spawned from this process - "Jethro", "Prince of Liechtenstein."
Mente returned to the studio in October and November using a real producer (Jon Hardy of the Bags) and engineer (Carl Plaster). At Fort Apache, they banged out "Rock & Roll Tonight," "Yeah," and "I Wanna Get High" as well as new versions of "Bobby Orr," "Hoverin'," and "Scrod." They put together a new radio-only tape (no name this time) and started to get airplay for "Rock & Roll Tonight" on college radio and WFNX.
In early 1991, Edward casually sent along a tape to a friend in Hollywood and things got weirder. The friend worked for Roger Corman's production studio. The Music Director there was the same guy who had a hit with "Life is a Rock (But the Radio Rolled Me)." He liked the Mente tape so much, he added three songs to three movies in production - "Yeah" in In The Heat of Passion (1991, starring Sally Kirkland), "Scrod" in Final Judgement (1992, starring Isaac Hayes), and "Rock & Roll Tonight" in Bloodfist IV (1992). The best use was probably for "Yeah," in which the playing of the song by a neighbor (among other things) drives the protagonist from his apartment - apparently, the Worst Band in LA, too!
Mente continued to toil away throughout 1991 and 1992, earning headlining status at the braver or smaller clubs. In November 1991, they recorded a bunch of songs for prosperity in the cellar of Fill In Mente's house. (Fill In was Gringo's brother and would fill in for band members if one couldn't make a show for one reason or another.) Finally in August 1992, they decided to grant the public their wish - Take Out Mente! A grand scheme was hatched to produce a boxed set of Mente recordings. Alas, they did not have the means to produce on CD or vinyl, so cassettes had to do. How to package? It turned out that Chinese food cartons would be big enough to hold 3 cassettes. And so, Egg Foo Rock was born. Songs from their WMFO shows, Fort Apache sessions, basement tapes, plus archival material from the 70's and 80's were included. Three cassettes, Et Tu, Mente?, Mente Bowls Your Mind and Excelentemente were delivered in each carton, along with band bio, a fortune cookie ("You have very bad taste in music") and mustard sauce.
Over the next two years, Mente took it easy, playing the occasional show while Mazz and Edward (Clamdiggers) and Gringo (Jumbo) joined other bands. In the meantime, Ron's x-wife was putting out her own versions of Mente songs with the Breeders in August 1993 ("Don't Call Home" and "Hoverin"). They hung on until August 1994, playing their last show at the Beachcomber in Wellfleet, MA. Ron's x-wife produced another pean to Mente, releasing " Hoverin" and "Empty Glasses" by the Amps on October 31, 1995. [By now, "Hoverin" is perhaps the 2nd or 3rd most recorded song in the history of Boston rock and roll.] Another tribute by Mono Puff followed when they released "Devil Went Down to Newport (Totally Rockin')" in 1996.

---